Music with Steampunk themes are the heart and soul of this area, but many fans enjoy bands that use a lot of steampunk fashion in their aesthetic as well. Other aspects that help define the genre are the use of more old time instruments such as Middle Eastern or African drums, mandolins, fiddle, accordion, banjo, or brass, mixed with modern instruments in a manner that re-creates historical music style with a somewhat jazzed up sound. Most importantly the genre involves bands of great interest and desirability to members of the Steampunk subculture whether for dancing, listening, or as a live show type of atmosphere. Ideally they would appeal as all three. The best two bands I can think of to mention here that do both are Abney Park and Marquis of Vaudville.
see links below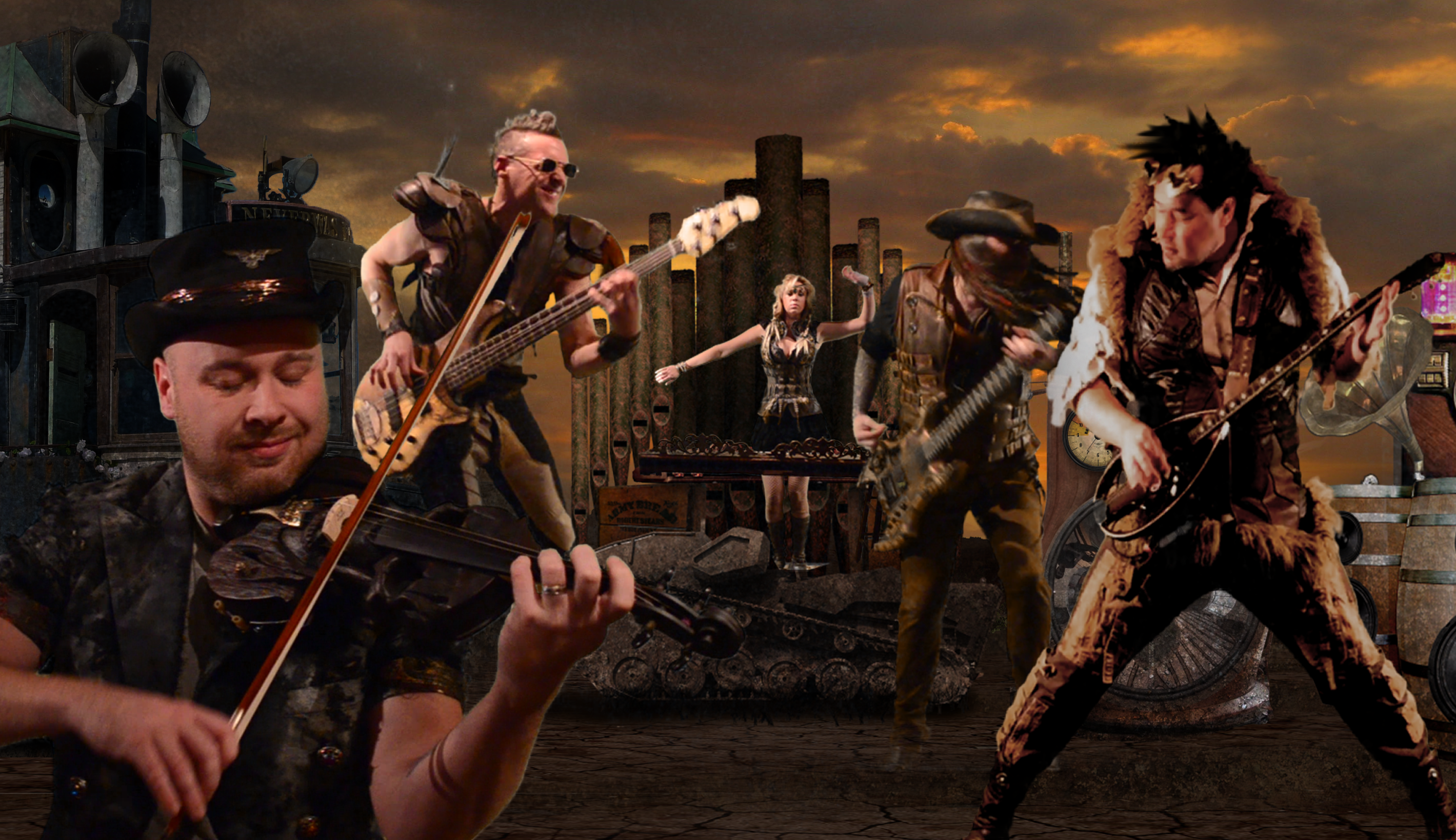 What is most impressive about both of these groups is that the members of the band live their lives in a manner that strongly supports the philosophy of Steam Punk, which loosely translated, supports encouraging a revival of creativity and individuality, empowering and supporting local businesses and artists/crafstmen, working to minimize the destructive effects of globalized economies where manufacturing is moved where ever the least controls on methods or treatment of individuals can be found, and a real desire to support individuals trying to live their dream in a manner that is friendly to the earth as well as those around them. What is even more surprising is that the members of both bands make themselves as easy to talk to as a childhood friend. They are very humble, sincere, and surprisingly friendly people.
(And you thought it was just about gluing on a bunch of gears and watches so they could all look
cool!)
Other groups/artists you should take a look at are the following:
White Ghost Shivers
http://www.whiteghostshivers.com/home/index.php?option=com_joomgallery&Itemid=100
Sunday Driver
http://www.facebook.com/profile.php?id=100001451499636#!/pages/Sunday-Driver-UK/19773347953?ref=ts
Psych Corporation - Dark Twisted Neo-Victorian and Cyberpunk Fairy Tales in Operatic Rock Style?
OK, so they aren't easy to define, but they are as easy on the ears as Psyche Chimere is easy on the eyes, and the lyrics are both facinating story telling and somewhat disturbing symbolic social commentary at the same time.
and also

Saraswati Bodisatva

- a very unusual and talented artist who also has been recently writing some lyrics especially for the upcoming, steampunk inspired Carnivale of Creatures performances. http://www.facebook.com/home.php?#!/pages/Sarasvati-Bodhisattva/111047597076?ref=ts Special Mention should also go to a few bands or musicians often loved and danced to by the more dance addicted members of our community, like our crew in "Kali's Hourglass" for instance, that have the right sound and topics that reject outward control by society with some sort of connection to one another and/or to nature as a being. Good examples would include:
The Dead Can Dance
Loreena McKennitt
http://www.quinlanroad.com/
and maybe even the Pagan band from Australia: Spiral Dance
http://www.spiraldance.com.au/